Lakes Begin 'to Bring the Legacy Back'
June 4, 2017
KINGSFORD — The Lake Linden-Hubbell girls ended a lengthy title drought Saturday, earning top honors at the Upper Peninsula Division 3 Track & Field Finals.
Lake Linden scored 110 points to secure its first title since 1983, when it was competing in Class D. Pickford squeezed past Cedarville by less than a point for the runner-up honor, and Bark River-Harris took fourth.
"We're trying to bring the legacy back," said junior Laura Lyons. "Mr. G (coach Gary Guisfredi) is doing everything he can to help us carry on the program."
Lyons led the Lakes by taking the 200-meter dash in 27.53 seconds, long jump at 15 feet, 5 inches, and by helping the winning 1,600 relay (4:23.23) and placing second in the 400 (1:01.37).
In the 400, she was runner-up to DeTour senior Sarah Bailey (1:00.52).
"I think my starts were pretty good," said Lyons. "I was in lane 8 in the 200, which made it hard to see the other girls.
"I didn't know Sarah before today. Track is also a social event. Everybody's just so friendly."
Lake Linden's Mariah Wilmer won the 800 in a school-record 2:27.08, followed by Bailey (2:28.59) and Rock Mid Peninsula eighth-grader Daisy Englund (2:35.71).
Wilmer also helped the winning 800 (1:54.99) and 1,600 relays.
Jamie Hendrickson provided the Lakes with firsts in high jump at 5-1 and by helping the winning 400 (54.10) and 1,600 relays. Sienna Anderson added a victory in the 100 hurdles (17.55).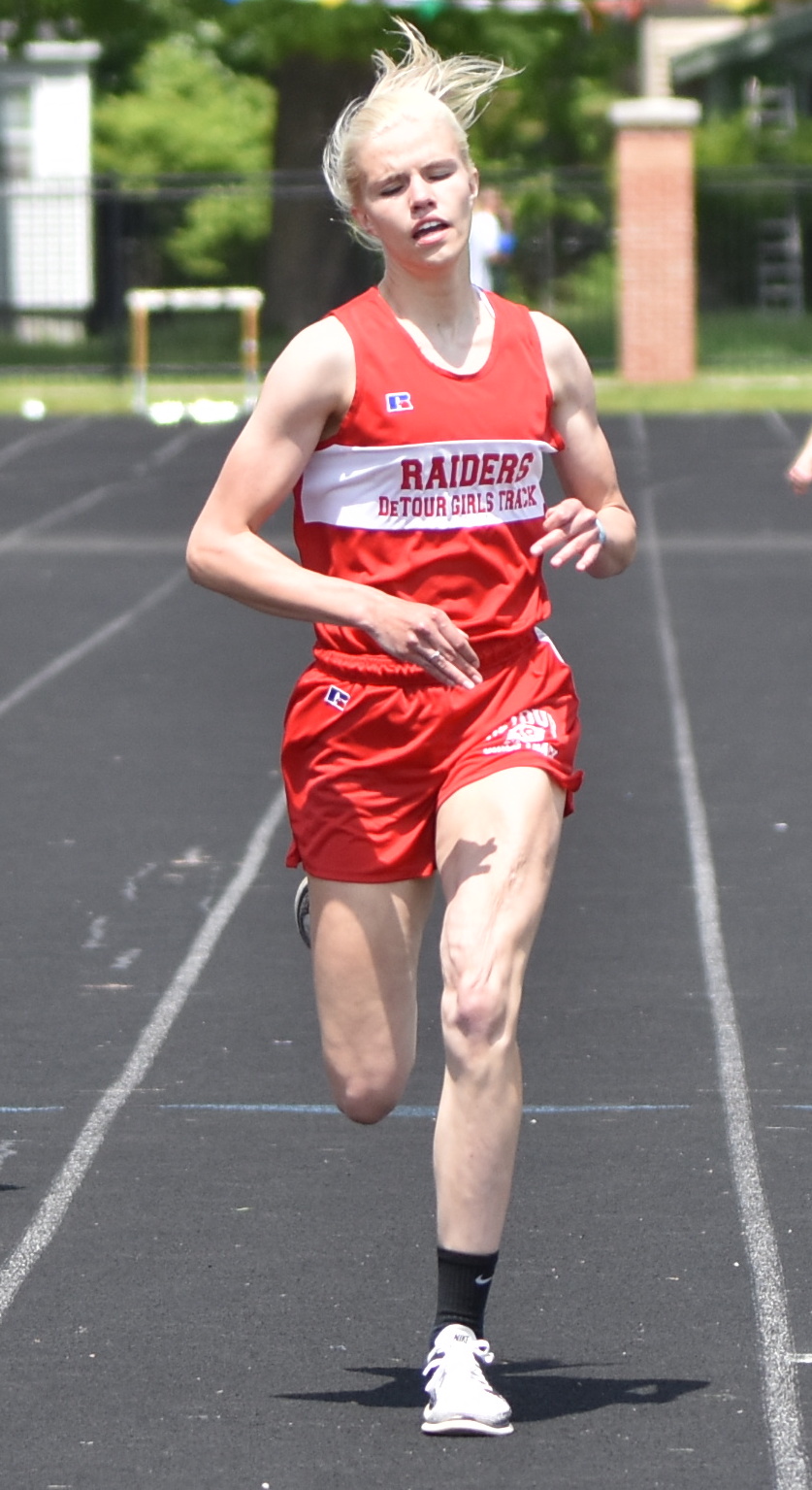 Pickford's Clare Cottle won pole vault (8-6), and Cedarville's Mackenzie Barr won discus (103-10), edging Ontonagon's Holly Wardynski by 6½ inches.
In addition to her victory in the 400, Bailey was runner-up in the 800 (2:28.59) and fourth in the 200 (28.22).
"I think that was my best time (in the 400)," said Bailey, who plans to play volleyball at Lake Superior State University this fall. "I had a pretty good start and tried to get toward the front. I had never seen (Lyons) before, but she was a good motivator. It's always a challenge when you come here because you never know what you're going to get."
BR-H sophomore Hailee Demers took the 100 dash (13.30) and 300 hurdles (49.46) and placed second in the 200 (27.68). Junior teammate Jaelin Lockwood was second in the 100 (13.59) and long jump (15-4).
Dollar Bay senior Cami Daavettila won the 1,600 (5:41.78), and Chassell's Lela Rautiola took the 3,200 (12:47.38).
"I was pleased with my time in the 1,600," said Daavettila. "The weather was perfect for the mile and I got a PR (personal record). There was a little bit of a breeze, but nothing to hold you back."
Engadine junior Ashtyn Buss took first in shot put (36-3) and fourth in discus (95-7).
PHOTOS: (Top) Lake Linden-Hubbell's Lily Kumpula takes off during her leg of the 400 relay. (Middle) DeTour's Sarah Bailey completes her championship dash in the 400. (Photos by Cara Kamps.)