Lyons Shows Way to All-Around Success
June 20, 2018
By Dennis Grall
Special for Second Half
ESCANABA – There have been a ton of awards and accomplishments recognizing the high school career of Laura Lyons, but the recent Lake Linden-Hubbell graduate remains extremely well grounded.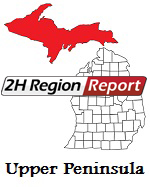 "I have to prioritize," she said in a recent telephone conversation from Fortune Lake, near Crystal Falls, where she is working at a summer camp that attracts youngsters, campers with disabilities and families.
"You have to focus on things you want to do," she said, listing school work, sports, family and faith among her priorities. "They have to stay out top."
It is easy to see Lyons has her priorities in place when considering the kind of person she has become.
Lyons was a four-sport standout for the Lakes and just as successful off the field. She was one of 32 students statewide to receive an MHSAA/Farm Bureau Insurance Scholar-Athlete Award this winter and one of four Upper Peninsula students to receive a four-year college scholarship from the U.P. Sports Hall of Fame. She was also valedictorian of her graduating class.
"She is one of the best athletes I have coached in my (nearly) 40 years," said LL-H track coach Gary Guisfredi. "She is just an all-around great person. She is not just a great athlete, she is a top-notch kid."
Lyons earlier this month helped her track & field team repeat as U.P. Division 3 champion, winning long jump (16-feet-0.5), placing second in the 200-meter dash (in a personal-best 27.34) and taking third in the 100 (13.4) and 400 (1:01.77). Guisfredi said she probably could have placed in pole vault and excelled in other events if meet rules didn't limit athletes to only four.
"She is a very versatile athlete," said Guisfredi. "There are a lot of different attributes (for athletic success), and she has them all. And she also works with our younger athletes. Other kids look up to her."
Lyons missed the final week of track practice because she was already working at Fortune Lake, but she followed a training regimen provided by Guisfredi before she began her daily camp duties. "She probably did more than I told her to do," he said with a laugh.
In addition to running four track events this spring, Lyons was also a conference all-star shortstop and pitcher in softball as one of eight teammates who doubled up in both sports. She was all-conference in basketball at guard and was an MVP setter in volleyball for the three-time conference and District champions.
Handling all the sports was not a challenge because, she said, "It is cross-training for all the rest. Everything you do in one sport can be applied to the others."
She's never had problems being ready for the different track & field events, although she recalled at the 2017 U.P. Finals being midway through her 400 race when her name was called to compete at long jump.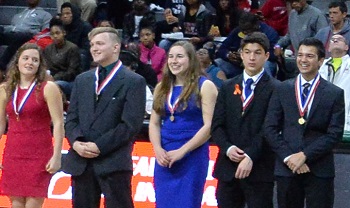 She enjoys track more than the other sports because of the team camaraderie, on the field and off. "It is really a social sport," she said of teammates, members of the boys team and opponents having fun in the infield during other races. She said even the LL-H boys and girls who did not qualify for the Finals still attended and were very supportive.
"We are like one big family," she said of her track teammates. "I don't hang out with a lot of the kids outside of school (she does have to study, after all) but we do spend a lot of time together at our daily routines. Somehow it all works out."
She also enjoys talking to athletes from other schools prior to her track events so "I don't get as nervous. I warm up a lot before the races."
Lyons and her teammates also serve as role models for the younger athletes. "A lot of us help coach other sports. And it makes me thankful for having the support of the community. We are a mirror athletically in the community," she said, indicating her accomplishments are a direct result "of my upbringing, the way I was raised."
Definitely not a me-first person, Lyons also expressed happiness over how women at church collect newspaper clippings of her deeds and pass them on to her. "I realize how they are a part of what I am doing," she said.
Asked what she is most proud of accomplishing, she hesitated for several seconds, then answered, "That is a tough one. I am most proud of the fact I have been so motivated in so many different things and (of) showing younger kids they can do the same things if they set their mind to it."
Lyons anticipates joining the track team when she attends nearby Michigan Tech University. She plans to follow an academic path of biomedical engineering with a focus on pre-med.
"She's got the whole package," Guisfredi said. "This kid is always smiling. She is a very special young lady."

Denny Grall retired in 2012 after 39 years at the Escanaba Daily Press and four at the Green Bay Press-Gazette, plus 15 months for WLST radio in Escanaba; he served as the Daily Press sports editor from 1970-80 and again from 1984-2012. Grall was inducted into the Upper Peninsula Sports Hall of Fame in 2002 and serves as its executive secretary. E-mail him at sportsdenesky@gmail.com with story ideas for the Upper Peninsula.
PHOTOS: (Top) Lake Linden-Hubbell's Laura Lyons is embraced by Ontonagon's Fahren Kolpack and holds a hand of Felch North Dickinson's Masyn Alexa after they took the top three places in the 400 at the UP Division 3 Finals, all within half a second of each other. (Middle) Lyons, third from left, stands with honorees on the Breslin Center floor during the Scholar-Athlete Awards ceremony in March. (Top photo by Cara Kamps.)