Petoskey Goes Distance Again for 1st Track Finals Win
June 6, 2021
ZEELAND – Petoskey went the distance again Saturday at the Lower Peninsula Division 2 Girls Track & Field Finals.
After claiming the Division 2 cross country championship in the fall, with senior Emma Squires the individual race winner, the Northmen were bolstered by Squires again in winning their first Finals title on the track.
Squires won the 800 (2:14) and 1,600 (4:55.05), finished second in the 3,200 and anchored the winning 3,200 relay (9:27.33) at Zeeland, which added up to 38 of Petoskey's total 48 points. Parma Western was second with 29.
The Northmen's only other top-two Finals finish had come in 1992, when they finished Class B runners-up.
"It definitely was a really hot, windy day, definitely not the best conditions, but we just had to gut through it," Squires said. "It was definitely the hardest race and meet ever this season.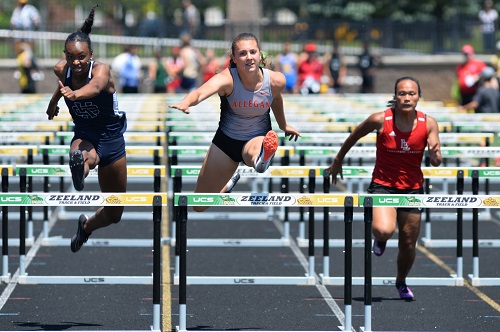 "The past two weeks definitely we've all been stressing about it. But we tried to sleep well and eat well and train well, and it definitely worked out well. We all peaked at the right time."
Squires was joined the on the 3,200 relay by senior Sarah Liederbach and juniors Noel Vanderwall and Caroline Farley. Vanderwall also joined Squires finishing fourth in the 1,600 and sixth in the 3,200, and Farley was right there with a seventh in the 3,200 as well.
"The distance girls won the state championship in cross country, and that's where all of our points came from today," Petoskey coach Karen Starkey said. "Throughout the year they worked hard, and we had some not-so-good weather, but everybody just worked together and it was positive. … They have a lot of guts, desire, and they're a good group of girls and we're going to miss them.
"I was pretty confident they would perform (Saturday) as they did all season long. It's unusual to have goose bumps on an 88-degree day. And that happened several times today."
Bridgeport junior Chaniya Madison was among those who powered through as well, as she won the 100 (12.36) and 200 (25.96) to score 20 of third-place Bridgeport's 26 points. She previously had won the 100 as a freshman in 2019. Allegan senior Hannah Antkoviak was another double champ, claiming the titles in the 100 hurdles (14.94) and 300 (44.69).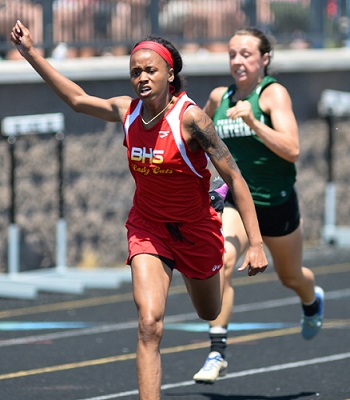 Big Rapids' senior Erika Beistle also gave a two-title good-bye to her high school career with a 20-foot win in the discus (147-5) while claiming the shot put championship (42-10) as well.
Belding freshman Brook Simpson, meanwhile, debuted by setting the LPD2 meet record in the high jump at 5-10, besting the 5-9 jumps by Sara Jane Baker of Mattawan in 2001 and Christine Krellwitz of Big Rapids in 2004.
Bloomfield Hills Cranbrook Kingswood senior Kaya Freeman won the long jump (17-4), and Grand Rapids West Catholic senior Katie Clifford won the pole vault (12-0). Simpson also finished second in the 400 to Marysville junior Reese Powers, who crossed first in that race in 57.71 seconds. Linden won the 400 relay (50.36), Hudsonville Unity Christian won the 800 relay (1:47.14) and Dearborn Divine Child won the 1,600 relay (4:04.32).
PHOTOS: (Top) Petoskey's Emma Squires outpaces the field during one of her championship runs Saturday at Zeeland. (Middle) Allegan's Hannah Antkoviak, middle, works to stay just ahead of Cranbrook's Kaya Freeman (left) and Stevensville Lakeshore's Lynea Slayback. (Below) Bridgeport's Chaniya Madison powers through the final strides of one of her sprint victories. (Photos by Dave McCauley/RunMichigan.com.)