Sacred Heart Finishes Championship Climb for 1st Time
June 5, 2021
HUDSONVILLE —The Mount Pleasant Sacred Heart girls track & field team was looking forward to a fun hour-and-a-half trek back home after the Irish claimed their first MHSAA Finals championship in their sport Saturday in Hudsonville.
Sacred Heart finished the day with 51 points, beating out Hillsdale Academy by six. Coach Adam Grifka was holding back tears after he realized what his team had just accomplished. He said it was an uphill climb all season, but they got it done at the right time.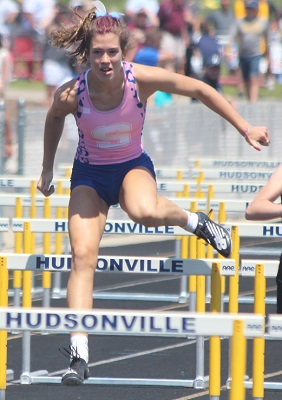 "At the beginning of the season, we had a really low turnout. I thought there was no way," Grifka said. "We just had everyone do so good today. The biggest thing I told them was to show up and compete no matter what."
They did just that, earning an individual when junior Nicole Olivieri came out on top in the 400 meters with a time of 57.47, a new personal record. And then the Irish just chipped away, claiming points in eight events total.
Olivieri was the catalyst for her team in the sprints. Not only did she earn the individual title, but she ran the anchor leg in the 800 and 1,600 relays. Sacred Heart won both events with times of 1:49.04 and 4:10.74, respectively, both setting school records.
"I started out the season with a 64-second 400, so dropping it to a 57 is just crazy," Olivieri said. "I never thought I would be running these times; it's insane to me."
She wasn't the only athlete to put together an impressive day. Lilly Bilbey from Alcona earned two individual titles, in the 100 and 200 with times of 12.51 and 26.58, respectively. Tess VanDyk from Kalamazoo Christian also earned two individual titles, sweeping the throwing events.
Saugatuck senior Jillian Johnson had a solid day as well, capturing her first individual title. She finished atop the podium in the long jump and shattered her own school record, breaking the 17-foot barrier for the first time with a leap of 17-00.75, just a quarter of an inch more than the second-place finisher.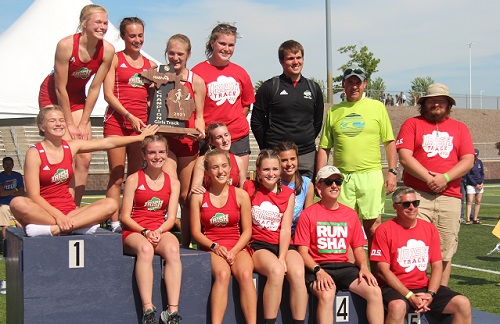 "It was crazy," Johnson said. "When it was over 17 feet, it was just insane. ... Right when (the eventual runner-up) hit the board on her final attempt, she stuttered a little bit, so I knew I was going to take it at that point."
The Trailblazers also saw an impressive day from junior Aerin Baker. Though she didn't come away with any event victories, she helped keep her team in contention all day scoring in three events, including a third-place finish in the long jump behind Johnson.
But when all was said and done, the history went to Mount Pleasant Sacred Heart. Olivieri said that even though it didn't seem realistic at some points this season, she couldn't be more proud of the way her team competed for every single second to come away as the best track team in its division.
"It's pretty cool to be the first," Olivieri said. "Everyone had to do their best today and give it all that they can, and they did. Everybody worked so hard. … It's such a good feeling."
PHOTOS: (Top) Mount Pleasant Sacred Heart's Nicole Olivieri races toward one of her scoring finishes Saturday. (Middle) Saugatuck's Aerin Baker leaps one of the hurdles during the 100 race. (Below) Sacred Heart celebrates its first track & field championship. (Photos by Will Kennedy.)