Seven Wins Help Fowler Hurdle D4 Again
June 2, 2018
HUDSONVILLE – Nabbing seven individual event victories Saturday at Hudsonville, the Fowler girls track & field team racked up 87 points to win its fourth Lower Peninsula Division 4 Finals championship in dominant fashion.
Pittsford took second place with 55.50 points, followed by Southfield Christian with 37. The title was the Eagles' second in three seasons and came after they finished runner-up to Southfield Christian a year ago.
"It's a great feeling, said 11-year Fowler coach Jill Feldpausch, a former standout for the Eagles during the 1980s. "We had 30 points coming out of the morning (session) with a first place in high jump, a first place in pole vault and the 3,200-meter relay. That was pretty awesome."
The 3,200 relay team of Josie Koenigsknecht, Taryn Schafer, Grace Boak and Morgan Goerge turned in a time of 9:51.85 to get things rolling in the right direction for the Eagles. Combined with Ciera Weber's height of 10 feet, 3 inches in the pole vault, and Alyssa Vandegriff's top effort and school record of 5-5 in the high jump, Fowler had a good cushion with some of its best events remaining.
The Eagles plowed through the rest of the relays, with Shannon Schmitz, McKenzie Koenigsknecht, Sidney Horak and Kaitlyn Langin winning the 800 in 1:46.28, and McKenzie Koenigsknecht, Langin, Weber and Horak clocked a 50.61 to win the 400. The 1,600 relay crew of McKenzie Koenigsknecht, Josie Koenigsknecht, Boak and Goerge put a bow on the meet with a victory in 4:05.99.
Vandegriff added a win in the 100 hurdles in 15.56 seconds and a fourth-place finish in the 300 hurdles (47.02). She led a trio of Eagles to make the finals in the 100 hurdles. Ciera Weber secured fourth in 16.41 and Sadie Weber was sixth in 16.76. Goerge also scored with a fifth-place run in the 800 (2:24.83).
"Our goal was to win all four relays, and I don't think that's been done at Fowler before," Feldpausch said. "In the 100 hurdles, for three of them to make the finals? They are constantly being challenged, and it's something to be proud of."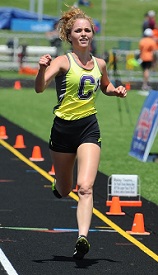 "Everyone on the team has worked so hard to win a state championship," Vandegriff added. "We all pushed each other at practices and worked our tails off."
A couple of future University of Michigan runners capped their prep careers in style Saturday as Concord distance dynamo Samantha Saenz pulled off a hat trick and sprinting star Chika Amene nearly did the same, settling for two victories and a runner-up effort by the closest of margins.
Closing out a phenomenal four years, Saenz, who boasts three all-state performances in cross country, including a Division 4 title this past fall, entered Saturday's meet as the two-time reigning champion in the 1,600 and a 2017 all-state performer in the 800 and the 3,200. She swept all three events this time around.
The first Saturday in June continues to be bittersweet for Saenz. It was just two years ago that her older sister, Saren, passed away due to complications from a combination of physical and mental disabilities the evening of Samantha's first 1,600 title.
"I just wanted to go out there and do it one last time for my family, for my friends and for my sister," Saenz said. "I just run for her. It's a great feeling."
Saenz took a conservative approach in the 1,600 (5:00.46) in an effort to leave some in the tank for her other two events. It paid off as she ran a personal-record time of 2:16.31 in the 800. She finished the 3,200 in 11:15.51.
"It never loses its excitement," she said. "Every time I cross the finish line, it's so meaningful to me because my sister couldn't walk or talk. Just the fact that I get to have that gift, it's just a good feeling."
For Amene, winning championships has become standard operating procedure, but she certainly hasn't taken them for granted. She captured victories in all three sprints and was part of Southfield Christian's winning 1,600-meter relay last June and followed that up with wins in the 100 (12.44) and the 200 (25.33) in her final prep appearance Saturday.
As proud of those wins as she is, the second-place effort to Beal City freshman Angela Kotecki (57.53) in a photo finish at the line in the 400 stung.
"I didn't get out to a great start in the 100, but I was able to run the girl down," she said. "The 400 really didn't go as planned. But the most exciting part was that I was able to PR in two events (100 finals and 200 prelims) and then have a season best in one. The loss in the 400 was painful, but my time was really good."
So were the performances of several others who came away from Hudsonville with championships. Reading's Baleigh Irelan was the top performer of the day in the 300 hurdles (45.85), Litchfield's Allie Vanous notched victories in both the discus (132-10) and shot put (40-4) and Hillsdale Academy's Katie Vanhavel claimed a title in the long jump (17-3¾).
VIDEO: Fowler's Eagles Fly High In Relays 
PHOTOS: (Top) Fowler's Alyssa Vandegriff clears a hurdle during her team's championship run Saturday. (Middle) Concord's Samantha Saenz sprints the straightaway during one of her three victories. (Click for more from RunMichigan.com.)