Stenman Provides Boost to Cranbrook Kingswood Blue Line
March 5, 2021
Having lived in northern California for the past decade, needless to say, there was a bit of a weather adjustment for Leyton Stenman when he arrived last year to attend school at Bloomfield Hills Cranbrook Kingswood.
"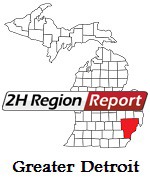 Before coming here last year, I didn't even own a pair of pants," Stenman said.
He obviously has since solved that issue, and has not only settled into life during Michigan winters, but at school and also as one of the state's best prep hockey players.
A 6-foot, 170-pound defenseman, Stenman was an all-state player last year in his first year playing high school hockey in Michigan, tying for the team lead in goals with 11 even though he plays along the blue line.
Entering action on Friday, Stenman has eight points (three goals, five assists) in nine games for the Cranes.
"He really came on during the last month of last year," Cranbrook head coach John LaFontaine said. "He's got a knack for finding the net from the point. He's got a really good shot. He's got really good vision, and he's worked on release from the point. He's got a lot of velocity on his shot and good accuracy."
Despite spending most of his childhood in suburban San Jose, Stenman has Michigan roots, which is how he got into hockey in the first place.
Living in Ann Arbor until he was 6, Stenman would regularly visit the Ann Arbor Ice Cube to watch his sister, who was a figure skater.
"I just thought it was cool to watch," Stenman said. "Then I convinced my parents to let me skate."
Even after he moved out to California, Stenman stayed active in hockey, taking advantage of the increased presence of ice rinks and youth teams as a result of the San Jose Sharks being a staple in the community.
But one thing California has little of is high school hockey, and it's common for players there as they age to look toward the Midwest and East Coast to further their development.
The travel hockey that took him away from schoolwork also was a hindrance in California.
"I wanted to play for my school," Stenman said.
So Stenman and his family researched possibilities on the East Coast and Midwest, but through his mother growing up in Michigan and the family's time in Ann Arbor, they knew a lot about Cranbrook.
After applying to the school and getting accepted, Stenman said he then visited Wallace Ice Arena.
His jaw immediately dropped looking up at the banners in the rafters and hardware in the trophy case, and he knew then he was in the right place.
"It was all I needed to see," Stenman said. "You walk in and see all the trophies and all the state championships. It was pretty amazing."
In the coming month, Stenman will hope to add to Cranbrook's record number of MHSAA Finals championships by helping the program win title No. 18 during the Division 3 playoffs, which would actually break a drought by Cranbrook's standards.
Cranbrook hasn't won the Finals since 2015.
Beyond high school, Stenman already has options.
In November, he signed a tender to play next season in the North American Hockey League for the Aberdeen Wings. He hopes that exposure will lead to an opportunity to play for a prominent college program.
"Anyone in the Big 10 is the dream," Stenman said. "But I'll be happy to play at any Division I program."
When he sets off on his hockey journey beyond high school, Stenman now should at least have a few pairs of pants in tow.
PHOTO: Cranbrook Kingswood's Logan Stenman looks to make his next move during a game last season against Detroit Catholic Central (Photo courtesy of C&G Newspapers.)