Grosse Pointe South Shortstop Fearless, Tireless on Field, Brilliant in Classroom
That Shannon Dame won't go on to play scholarship softball at the college level won't have a bearing on the impact she's had on the program at Grosse Pointe South the last four seasons.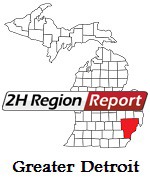 And besides, playing softball collegiately was Plan B. Plan A has always been deciding what university would offer Dame the best opportunity academically. While Dame is a darn good softball player, few can match her accolades as a student.
Dame never has earned less than an A in high school, sports a 4.44 GPA, scored a 35 (out of 36) on the ACT and a 1560 (out of 1600) on the SAT. Dame didn't miss a question in mathematics and science, which makes perfect sense. She has been accepted at the University of Michigan and will enter the school of engineering with plans to major in biomedical engineering. She earned a partial academic scholarship to U-M and also was awarded a National Merit Scholarship.
"I took a bunch of AP (advanced placement) science courses (at South)," she said. "I just love math and science. I always have."
Athletically, Dame played three sports (softball, basketball, volleyball) before concentrating on softball and her academics beginning with her junior year.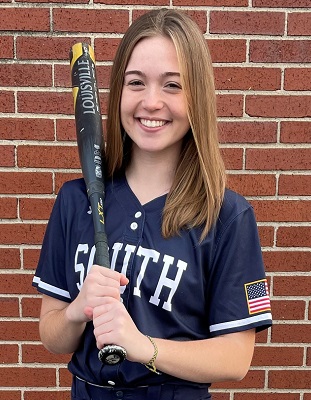 From the first day as a member of coach Bill Fleming's varsity team, Dame has shown a willingness to do whatever it takes to be the best player and teammate she could possibly be. Whether that meant staying after practice to work on her fielding or mentoring younger players, like sophomore second baseman Lilly Stidham, Dame has given her all.
"I was aware of her before (her freshman season)," Fleming said. "She was the quietest kid I'd ever known. It was 'yes coach' or 'no coach,' and that was it. Even then she'd come to practice early, and she'd stay late. She's very focused. She's a person who if you tell her something once you wouldn't have to say it again.
"What sets her apart is that she works so hard. She's constantly asking me to stay after practice to hit her ground balls. She's made herself a better player. I've coached football, wrestling and softball since the mid-90s, and through all of those years and teams I've coached she's worked harder than any player I've had."
Dame started at second base as a freshman before Fleming moved her to shortstop and the leadoff spot last season. COVID-19 led to the cancelation of the 2020 season, but Dame was able to play travel ball during that summer.
She batted .481 last season and was hit by pitches 20 times, placing her second on the MHSAA record book single-season list. She's currently batting .512 with an on-base percentage of .596, with 18 runs scored despite missing six of South's 22 games. On April 21 in a game against Port Huron, Dame suffered a knee injury that caused some consternation.
"There was a pop up and we had some miscommunication," she said. "I reacted to the ball coming down, and when I went for it my knee kind of twisted.
"It was pretty nerve-racking. I waited five days for the (MRI) results and had to wait two or three more to get cleared (to play). It's a bone bruise. It's getting better, and I don't feel (the pain) much now."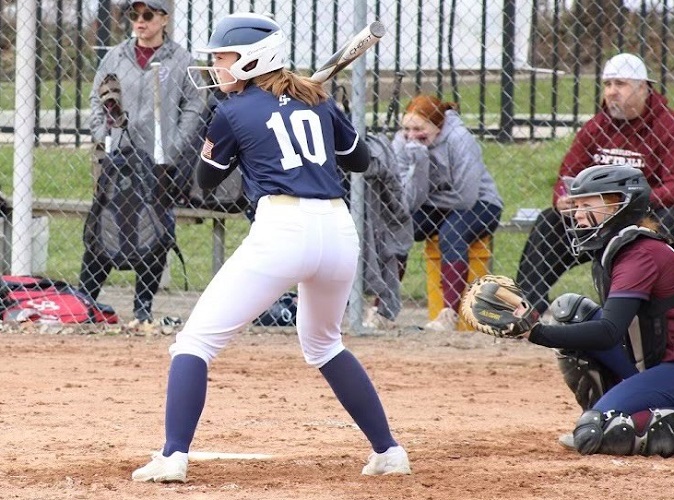 Dame credits hitting coach Molly Clexton with her improvement at the plate. Dame has the tendency to crowd the plate – thus all of hit-by-pitches – and Clexton encouraged her to back off a bit. This and other tips have made Dame one of the top leadoff hitters in the Macomb Area Conference.
"(Clexton) helped me with the bat angle," Dame said. "I wasn't always quick with my hands, and she helped me with my bat speed. And she really helped me with my confidence. I was nervous as a freshman. Even my friends noticed a difference with me at the plate."
Every player had to deal with the COVID season, and Dame just tried to make the best of it.
"I'd play catch with my brother (Brian), my dad or my mom," she said. "My parents bought me a net so I could practice hitting in the backyard. Even though I missed that (sophomore) season, I did play travel during the summer. With that extra time I was able to work on my hitting. It was the part of my game that I was lacking in confidence."
While many players might have taken a step back after missing out on 2020, Dame displayed tremendous improvement heading into her junior year.
"She's fearless," Fleming said. "She doesn't give any of the plate away. She's not a slap hitter. She's disciplined. What she does is use what we call a quick bunt. As a right-hand hitter, she wants to get out of the box quickly. She's a singles and doubles hitter, and she told me this year she wants to hit a home run."
Another goal is to win an MHSAA Division 1 District title. Dame has not been a part of a District-winning team, and to accomplish that South most likely would have to defeat its biggest rival, Grosse Pointe North. South has had an up-and-down season but sits 13-9 after losing to Warren Regina on Thursday.
"We're a good team," Dame said. "As a team, we need to get our heads into the game. We've made too many mental mistakes."
Dame does plan to continue playing the sport in Ann Arbor. She hopes to join U-M's club program. 

Tom Markowski primarily covered high school sports for the The Detroit News from 1984-2014, focusing on the Detroit area and contributing to statewide coverage of football and basketball. He also is a former correspondent and web content director for State Champs! Sports Network. Contact him at tmarkowski@statechampsnetwork.com with story ideas for Oakland, Macomb and Wayne counties.
PHOTOS (Top) Grosse Pointe South shortstop Shannon Dame prepares to defend her side of the infield. (Middle) Dame has started for the Blue Devils since her freshman year. (Below) Dame stands in ready for the next pitch. (Photos courtesy of the Grosse Pointe South softball program.)