Joseph Coaching Tree Continues to Bloom
May 17, 2017
STERLING HEIGHTS – Annis Joseph died last year at the age of 92, and the former baseball coach, husband, father and grandfather supplied his extended family stories to tell that will last a lifetime.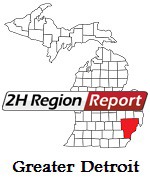 Ryan Joseph is one of his grandsons and forever in debt to the person who created such a love for sports, whether playing or coaching, for so many members of his family.
One such story touched Ryan at an early age and represents a chord that connects this family through more than 60 years of coaching.
Ryan Joseph, 29, is in his second season as the varsity baseball coach at Utica Ford. Back in the mid-to-late 1990s he watched East Detroit's baseball team, coached by his father, Matt, play against Ferndale, coached by his grandfather.
"My dad ran a squeeze play to win the game," Ryan said. "It was a play my grandfather used all the time, and my dad learned from that. The newspapers were there, taking pictures afterward of my dad and my grandfather together. That was the first memory I have of my grandfather."
Annis Joseph coached for 53 years, and most of his time as a coach was spent on a baseball diamond in Ferndale. He and his wife, Josephine, raised seven children, four boys and three girls, and all of the boys played a variety of sports throughout high school. All also eventually became coaches.
Matt Joseph is the seventh child, and what his father started in the 1940s, coaching and working with the youth in the area, will continue for years to come.
Matt Joseph and his wife, Darlene, have three children, and all three are coaches. Matt is in his 32nd season. He's currently the head coach of two varsity sports at Utica Ford, softball and girls basketball. He's also a counselor at the school.
"Sports has always been a big part of my life," Matt said. "I love it. I love coaching. I love working with young adults, and the camaraderie you build with coaches and referees. (Being a coach) has helped me in my life. You have to have patience (to coach). It's becoming a family thing."
His son is not only the baseball coach at Ford, but he just completed his first season assisting his father with the girls basketball team. Ryan started coaching in 2010 at Jeanette Junior High in Sterling Heights working with the eighth grade boys basketball team. He also coached freshmen baseball at Sterling Heights Stevenson for five seasons before going over to Ford. Ryan also coached football for four seasons including one at the freshmen level at Stevenson. This season he started coaching a 13-and-under summer league baseball team as well. 
Matt's eldest daughter, Emily, 27, just completed her fifth season as the girls junior varsity basketball coach at Macomb Dakota. Emily is also a mathematics teacher at the school.
The Josephs' third child, Teresa, 25, just completed her third season as the girls varsity basketball coach at Grand River Prep in Kentwood near Grand Rapids. Teresa also teaches math at the school.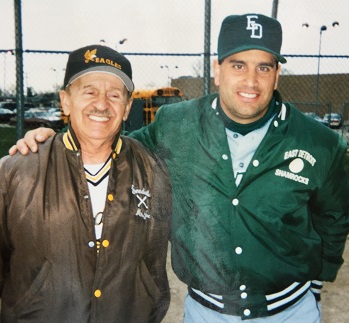 Matt, 54, began his career in education as a math teacher. He graduated from Madison Heights Bishop Foley in 1981, and he said there was a math teacher he had as a junior who sparked his interest in the subject.
His children followed his lead, all except his son who chose a slightly different path. Ryan is a French teacher.
One of Matt's brothers, Mike, switched careers after a spell. He quit his job, went back to college and earned his teaching certificate. Mike teaches at Hartland and is the girls varsity golf coach there.
It's in the blood.
"I knew in high school I wanted to be a teacher," Matt Joseph said. "I love what I do. I wake up and it's not a chore going to work. I knew I wasn't going to make a lot of money. Looking back, I wouldn't change a thing."
The other male offspring of Annis and Josephine are Dave, 64, and Ray, 63. Mike is the eldest son at age 69.
Dave and Ray spent a majority of their careers coaching girls basketball. Dave spent the last 12 seasons as the varsity coach at Bishop Foley before recently resigning. Ray was Dave's junior varsity coach the past 21 seasons.
"My dad started it all," Dave said. "He owned Annis Market on 9 Mile (Road) and Hilton in Ferndale. He coached federation ball, and each team had to have a sponsor. The market was ours for a number of years. Growing up we would go along with Mom and Dad to the ball field. My dad coached, and my mom would sell concessions. So we were in sports all of our lives. We all started at a very young age. My dad coached me until I was 18. It was fun. Those were great times."
Dave Joseph said what he'll miss most is watching the improvement of the players coinciding with the improvement of the teams. What happened in between was what adults would call the foolishness of youth, what Dave termed 'giddiness'.
Matt has had the most success. He started coaching at the varsity level in 1990 at East Detroit as he ran both the baseball and boys basketball programs. From 1996-2000 he coached three varsity teams adding girls basketball to the list. After the 2000-01 school year, Matt left East Detroit and accepted a counseling position at Ford. He remained the baseball coach at East Detroit, and in 2004 he was hired as the girls varsity basketball coach at Ford.
It was during this time that Ford's baseball coach Dan Barnabo switched over to coaching softball. It took Barnabo time to convince Matt to make the same switch.
"He convinced me to help him," Matt said. "At first I said, 'No, I'm a baseball guy.' I finally did it. Then we switched again. (In 2011) I became the head coach and Dan's my assistant. And he still is."
As a school, Ford has never been to an MHSAA Softball Final, but Matt took his Falcons to the program's first Semifinal in 2014 as Ford lost in Division 1 to Portage Central, 1-0.
Ford is 20-4 this season, ranked No. 6 in the state coaches poll, and could play No. 2 Macomb Dakota, last season's Division 1 runner-up, in a District Final.
Dave Joseph's teams didn't make it as far as Matt's in softball, but Dave's 2013-14 Bishop Foley team did win the Detroit Catholic League C-D title.
And success is measured in many more ways than District or league titles. As a person, Matt Joseph is content. He's lived a good and happy life and is proud of where he came from and the guidance he and his wife gave their three children.
"I just believed in what I was doing," he said. "And my kids did all the things I did when I was growing up. They came with me to East Detroit as a water boy or water girl and a bat boy. It's what we did as a family. And they all played at least two varsity sports."
Evidently Annis Joseph sold more than fruits and vegetables at his market. He was able to convince many in his family that by participating in athletics, and becoming passionate about them, those experiences could lead one to riches not measured in dollars and cents, but where commitment and family are their own rewards.

Tom Markowski is a columnist and directs website coverage for the State Champs! Sports Network. He previously covered primarily high school sports for the The Detroit News from 1984-2014, focusing on the Detroit area and contributing to statewide coverage of football and basketball. Contact him at tmarkowski@statechampsnetwork.com with story ideas for Oakland, Macomb and Wayne counties.
PHOTOS: (Top) One branch of the coaching Josephs surrounds grandfather Annis, clockwise from top left, Ryan, Matt, Emily and Teresa. (Middle) Annis, left, and Matt Joseph when Annis was coaching at Ferndale and Matt at East Detroit. (Below) Matt Joseph celebrates a basketball championship with daughter Teresa during her playing days. (Photos courtesy of the Joseph family).