Amid Loss, Marian Closes Out Inspired Win
BATTLE CREEK – One of the great moments at the end of any MHSAA Final is the winning coach hoisting the trophy aloft and joining their players in celebration. 
On Saturday, Bloomfield Hills Marian volleyball coach Mayssa Cook passed on that moment, and in the process made it even more special for all involved. 
Cook handed the honor off to Jacqui Feldman, the daughter of Dave Feldman, the Marian athletic director who died Thursday after a long battle with COVID-19.
"It was so special," Marian junior outside hitter Ava Brizard said. "Me, Sara Sylvester and Sophie Treder played with her our freshman year, so we know the Feldman family really well. It was so devastating to hear that he passed away the night before we were supposed to go to Battle Creek, because he was just as competitive as we were the whole season. He loved volleyball so much, and we know that. It was just kind of more fuel to our fire to win a state championship, as if we didn't have enough already, to win it for him and win it for her. It was just so special for her to give us that trophy, because we were like, 'We did it for your dad.'" 
The players had Feldman in their hearts as they defeated Lowell 25-17, 25-20, 25-19 in the Division 1 Final at Kellogg Arena. It's the Mustangs' third title, and first since 2010. 
"I think this whole season, it was just about resilience," Brizard said. "Starting off in August, we didn't get to start right away and we had to practice in the muddy water on the beach and the grass. We just dealt with all the punches that came our way this season, so to finally get here to Battle Creek and win the whole thing and play the way we did out there and play so amazing, it feels like all of our hard work paid off. Especially with Mr. Feldman passing, we feel so grateful that we can win it for him, and we know he's definitely smiling and jumping around up in heaven, cheering us on." 
Marian (35-5) was solid in all phases, but Brizard's dominance at the net was too much for Lowell to contain. She finished with 29 kills compared to just four errors on 52 attacks. Her last three kills provided the final three points of the match.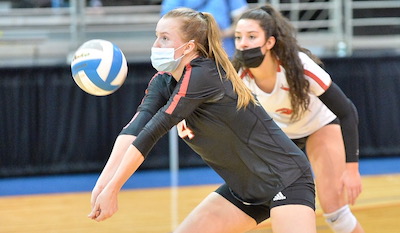 "We do call her our finisher, our closer," Cook said. "It's one of those things they know that if she's in the front row, we're going to fight to keep her in the front row. Obviously, we have capable hitters all around. It's nice, because she's probably hitting close to .500 on the season, so at the end of the day, the odds are that one out of two balls is likely to be a kill. Let's just play those odds." 
Brizard was fed by Ava Sarafa, who finished the match with 39 assists. Ella Schomer added eight kills and 11 digs for the Mustangs, while Lauren Heming had 15 digs.  
Marian's entire roster is eligible to come back next season, and while that's nice to think about now, it was something that drove Cook and her team all season. 
"A reporter was already talking about next year, and I said, 'I don't know why you're talking about next year. This year's not over, and we have a mission, we have a goal,'" Cook said. "I went back to the team and said, 'This is what this reporter said, can you believe it?' We grab little things as coaches, and we use it as fuel to push them to go beyond their comfort zone." 
Lowell (35-5) was led by Jenna Reitsma, who had 22 kills, while Emily Struckmeyer had 10. Sophie Powell finished with 32 assists, and Emma Hall had 17 digs.  
"(Reitsma) is phenomenal; she's special," Lowell coach Jordan Drake said. "I don't know if I'll ever coach a hitter like her again. She's the best of the best. At the same time, she doesn't get the kills she does without a good pass. She doesn't get the kills she does without a good set. These three (seniors Reitsma, Powell and Hall) are like sisters, and it's not just Jenna, it's the whole team." 
It was the second straight Finals appearance for Lowell, and while neither ended with a title, that success has elevated the program to a new level. 
"It's just really cool to see the support from our community," Reitsma said. "And all of the younger girls that we can have an impression on, and see how they grow up to be, and just how they watch us. It's going to be amazing to come back and watch the program over the years to see what an impact we had, because all the little girls out there that watch us play have big dreams to do what we do, too. It's really cool, and I'm hoping they can keep that legacy going."
PHOTOS: (Top) Bloomfield Hills Marian's Ava Brizard sends a kill attempt during Saturday's Division 1 Final. (Middle) Lowell's Jenna Reitsma controls possession. (Click for more from Hockey Weekly Action Photos.)