Chemistry Super-Charges Valley Lutheran
October 14, 2020
Sydney Krause said she and her teammates on the Saginaw Valley Lutheran volleyball team don't talk much about getting back to Battle Creek for MHSAA Finals weekend.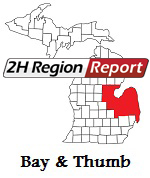 Even though it's clearly the goal, the senior setter said when everyone is together, they're more focused on the matches directly in front of them and respecting each opponent.  
In private conversations, however? 
"Between me and (senior outside hitter) Peyton (Bartnikowski) for example, we talk about it often," Krause said. "We want to get back, and we'll do anything to get back there." 
A year ago, the Chargers made their first Semifinal appearance, winning their first Regional title since 2011 along the way. A month into this season, they're looking like a contender to do it again, as they are 19-2 and ranked No. 4 in the Michigan Interscholastic Volleyball Coaches Association Division 3 poll.  
"I've always had a lot of talent, and every year I feel like we're in the running, but last year was the first year that I felt so confident about it that I told the girls, 'This is what we're going to do: We're going to go to the Final Four, and this is how we're going to do it.'" Valley Lutheran coach Jon Frank said. "This year, I told them we're going to go to the Final Four, and then some. Hopefully." 
Frank said it took just one match this fall for him to realize his confidence in the team was well placed, as the Chargers have been able to get off to a flying start. Their two losses on the year came against perennial Division 2 power Pontiac Notre Dame Prep and Birch Run, a team just outside the top 10 in the Division 2 rankings. Valley Lutheran was able to take a set off Notre Dame Prep. 
That fast start is being fueled by strong team chemistry, despite the Chargers losing six seniors from last year's semifinalist – several of which played a prominent role, including all-state second-team libero Kelsey Vittitow. Eight players from last year's squad are back, however. 
"The people we have coming back from last year are great players, and they came back even better," said Bartnikowski, who was an all-state third-team selection a year ago. "Our chemistry was the same as it was last year at the end of the season, and we just picked up where we left off."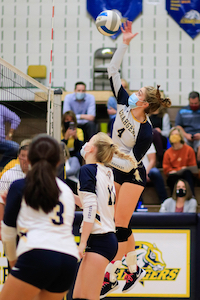 That chemistry is most visible in the connection between Krause and Bartnikowski, who are entering their third year playing together.  
"I'm so thankful for the chemistry we do have," Krause said. "I think it honestly came from having so many reps together. We've worked a lot in practice, and also in club in the past year. This year, it's even stronger because we have all those touches together over the club season. We're friends off the court, so we trust each other a lot." 
Bartnikowski said their friendship actually started off the court, as they had classes together as freshmen while she was playing on the varsity team and Krause was on JV. As sophomores, the on-court connection began to blossom. 
"I think it's so important, because that's what gets you the points," Bartnikowski said. "If you have a setter and hitter that don't have that chemistry, you can still get the points, but it's so helpful to have that chemistry where she can do all types of sets, and I know exactly where each set is going." 
With the season shortened by a few weeks because of COVID-19, Frank believes that chemistry will be an advantage.  
"It's huge," he said. "These kinds of connections come over years, not even seasons. It's just like anything else, reps matter to build that chemistry. Especially in a short season, for them to have the background reps is huge." 
Another advantage is the depth in the Valley Lutheran attack this season. While Bartnikowski is the focal point, fellow outside hitter Lexie Peplinski and middle hitters Ashlyn Martin and Olivia Grimpo are keeping defenses honest. It's also providing Krause with an abundance of options. 
"She has a lot of places to go," Bartnikowski said. "I think it's harder (for defenses) than what it is if someone is just setting it outside all the time. It gives us an easier pathway to get a kill. If the other team is just setting up outside, it catches them off guard." 
With returning defensive specialist-turned-libero Kya Bellil leading the back row, the Chargers are strong front to back, and certainly have the makings of a team that can get back to the Final Four the week before Thanksgiving. 
If they do, they hope the experience gained a year ago can help them take another big step. 
"I think it will be helpful, especially since we have a lot of returners and we've all been there," Krause said. "Last year we were all taking it all in. We were there to play, but it was also a completely new experience. I think it will help us to focus more on the task at hand." 

Paul Costanzo served as a sportswriter at The Port Huron Times Herald from 2006-15, including three years as lead sportswriter, and prior to that as sports editor at the Hillsdale Daily News from 2005-06. He can be reached at paulcostanzo3@gmail.com with story ideas for Genesee, Lapeer, St. Clair, Sanilac, Huron, Tuscola, Saginaw, Bay, Arenac, Midland and Gladwin counties.
PHOTOS: (Top) Sydney Krause sets up a waiting group of Valley Lutheran attackers this season. (Middle) Middle hitter Ashlyn Martin connects on a spike. (Photos by Sonny Medina.)