Reigning D4 Champ Finding Title Mix Again
October 8, 2019
By Wes Morgan
Special for Second Half
Losing half its roster following a Division 4 championship season presented plenty of challenges to the Mendon varsity volleyball program this fall.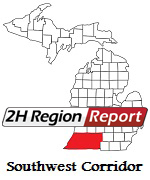 But the resourceful Hornets, led by second-year head coach Heather Bowers, have managed to compete at a high level while simultaneously forming a new identity.
With a dominant offense in 2018 that resulted in an MHSAA postseason run that was nearly perfect (just one set dropped in seven matches) and culminated with a 25-16, 25-21, 25-14 victory over No. 1-ranked Leland in the Final at Kellogg Arena, Bowers' first year in charge was a smooth transition for the program. This year, without as much firepower, a slew of injuries and players having to learn new and critical positions, a match record of 21-6-6 has required a more blue-collar approach.
"They still have that drive that has been instilled in them," Bowers said. "They're not satisfied; they want more all the time. They have that competitiveness this year, too. The talent is there, and it is a very athletic group that's fun to work with."
Still, at 6-0 in the Southwest 10 Conference and carrying a No. 2 ranking in the latest Michigan Interscholastic Volleyball Coaches Association poll, the Hornets have positioned themselves well for a repeat run.
Bowers, who played her senior year at Mendon in 2011 for legendary coach Kathy Trenary before competing for Huntington University in Indiana, has implemented a similar, defensive-minded approach along with a focus on serving.
"We have always prided ourselves on serving," said Bowers, whose team is operating at a 90.1-percent clip this year with 279 aces. "Serving has been a staple and defense has been a staple, too."
Senior defensive specialist Juliana Hagenbuch has registered 265 digs so far this year, with four more teammates having made significant impacts in the same category. Junior outside hitter Anna Smith, who has verbally committed to play for Division I College of Charleston (S.C.), might be best known for her offensive prowess, but she's second on the team with 187 digs. Senior Gracie Russell is up to 157, and sophomore Payton Griffith boasts 150.
"Juliana runs the defense and makes sure people are in the right spots," Bowers said. "She is really, really good at reading and very good at serve receive. I don't think I've run into another high school player who's that consistent at serve receiving."
"We have kind of filled the spots of the people that have graduated, regrouped and found that drive again," Hagenbuch said. "I think we're capable of making it pretty far again this year."
Senior middle blocker Taylor Heitkamp has had the hottest hand at the service line with 67 aces, followed by Smith (55) and Hagenbuch (53). Smith has logged a team-best 43 blocks — which is rare from the outside hitter position — and junior middle Andrea Hoffman has 41 blocks.
That's not to say the Hornets aren't well-equipped offensively. Smith, a 2018 all-state selection and the second in her family to attract attention from Division I college coaches (older sister Kaley is a junior libero at Western Michigan University), is a powerhouse at the net with 409 kills this year. Heitkamp is responsible for 149 and Hoffman has 117.
"Anna leads us on our offense every outing," Bowers explained. "She is a very powerful hitter. She sees the court well, she's a great leader and a great defensive player as well. It's amazing to see the kind of power she has in her serves and her hitting. She just reads really well; she's played so much."
The common denominator is Russell, who moved from defensive specialist to fill the massive shoes of graduated all-state setter Aubrey Crotser.
"She's quick and has really good hands," Bowers said. "Throughout the summer she worked really hard and is doing really well. She is more of a quiet leader with scoring. She makes great choices and is just so quick to the ball."
Smith's ability and experience have been invaluable, and the program is thrilled to have her back for another year in 2020. Though the makeup of the squad is different than that of the 2018 championship team, having seen what it takes to be the last team standing, Smith feels another deep run is within reach.
"We knew we had big expectations this year," she said. "We're reinventing ourselves. Our chemistry was not the best, but now I think we're starting to finally get into a groove. We all have the same goals, and it's to win another (championship). We've tried to focus on only what we can control, the basics, and just play our game."

Wes Morgan has reported for the Kalamazoo Gazette, ESPN and ESPNChicago.com, 247Sports and Blue & Gold Illustrated over the last 12 years and is the publisher of JoeInsider.com. He can be reached at wmorgan@joeinsider.com with story ideas for Berrien, Cass, St. Joseph and Branch counties.
PHOTOS: (Top) Mendon's Anna Smith sends a serve toward Southfield Christian during her team's Division 4 Semifinal win last season at Kellogg Arena. (Middle) The Hornets celebrate a tournament victory this fall. (Middle photo courtesy of the Mendon volleyball program.)