Dundee Ties Program Best with 4th-Straight Finals Win
March 30, 2021
KALAMAZOO – The Dundee wrestling team found itself in an unfamiliar position Tuesday evening: behind. 
The Vikings were dominant all season. They feature eight wrestlers ranked No. 1 in their weight class, and lost just once – against Division 1 Finals champion Davison. 
But thanks to wins from Whitehall's Max Brown and Marco Moore, which sandwiched a long technology delay, Dundee had to spend nearly 30 minutes of the Division 3 Final trailing on the scoreboard.  
It didn't take nearly as long for the Swiderski brothers – Casey and Tyler – to erase the deficit, though, as they re-established a Dundee lead that was never relinquished in a 55-17 victory at Wings Event Center. 
"I was saying it myself, 'Here we are. We're behind after two matches. Here we go,'" Dundee coach Tim Roberts said. "The guys responded and came back well. (Whitehall) was wrestling well. I give them a lot of credit; their guys came to compete. It was their first time in the Finals ever, and I think they made a good showing of themselves in how hard they competed and how they started that dual. I think they have a lot to be proud of, too." 
It's the fourth straight title for the Vikings, and their 13th overall. It's the second time Dundee has won four straight titles, as the program did as well from 1995-98 in Division 4 and Class C-D (1995). The program has entrenched itself as the best in Division 3 by advancing to the Finals each year since 2007, winning in eight of those 14 years. 
"I'm just very grateful to be part of a program that's done this well," senior Stoney Buell said. "It puts a little more gratefulness on this year with COVID. I'm just beyond blessed for this opportunity and to be able to do it with a great bunch of guys." 
Dundee had a bye in Tuesday's Quarterfinal, and defeated its longtime rival Richmond 72-6 in the Semifinals. It was the culmination of an entire season spent as a heavy favorite, but the team never lost focus.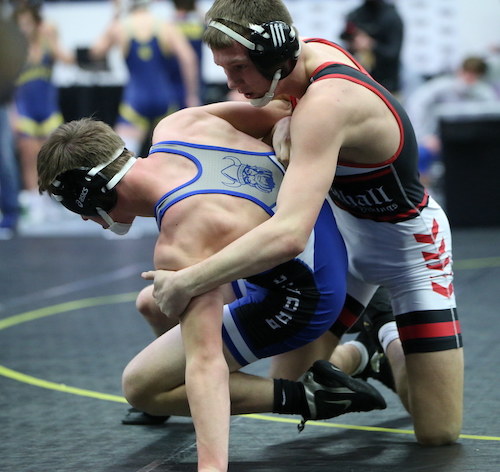 "Our whole mentality and in practice, it's all about having fun," junior Casey Swiderski said. "It's not about coming here and winning team state, it's about putting points on the board, everybody does their job and then you win 55-17 in the Finals. That's how it works." 
The season-long dominance didn't mean it wasn't a stress-free season for Roberts, as he spent the entire year trying to make sure his team was healthy above all else.  
"We know we have a good team, we know we had a lot of talent on it, but we need them to keep their minds in the right place moving forward and still fighting for something," Roberts said. "That was a lot of work building goals for these to keep chasing. The way they handled it, and the way they kept fighting all year, I'm really proud of them and the way they came through in a situation that was weird. They handled it really well." 
Whitehall kept things interesting for a while, though. Brown's victory came in overtime against top-ranked Austin Fietz at 140 pounds and was followed by Moore's decision at 145. Casey Swiderski won by technical fall at 152, followed by a major decision from his brother Tyler at 160. Dominick Lomazzo (171) and Buell (189) each won by fall to stretch Dundee's lead to 21-6, but Whitehall pulled back to within four after Shane Cook (215) won by forfeit and Ira Jenkins (285) won by technical fall. 
Dundee closed the match with six straight victories to clinch the title, getting pins from Kade Kulce (103), Braeden Davis (112), Kaden Chinavere (119), Logan Sander (125) and Aiden Davis (135). Trey Parker won by major decision at 130. 
"We just told our guys to go out there and compete and give their best effort," Whitehall co-coach Justin Zeerip said. "At the end of the day, if they gave their best effort, I knew they could be happy with themselves. We just wanted to go out there and wrestle them hard. That was a really big match for Max, that kid's been ranked No. 1 all year, so for Max to go out there and win it in overtime, I thought he looked really, really good today." 
Brown, Cook and Jenkins each won three matches on the day for Whitehall, which defeated Hart 41-23 in the Quarterfinals and Alma 37-29 in the Semifinals.  
"I couldn't be prouder of the kids," Zeerip said. "Our first two matches today, they wrestled really, really hard. Even in the Finals. Dundee, they have such a historical program, and even though we didn't win the match, I was really happy with our kids' effort and how hard they fought out there."
PHOTO: (Top) Dundee celebrates its fourth-straight Division 3 title. (Middle) Whitehall's Max Brown works to gain control during his match at 140 pounds. (Click for more from HighSchoolSportsScene.com.)