Lowell Unstoppable Again as Title Streak Grows to 8
March 30, 2021
KALAMAZOO — Not even a pandemic and a shortened season can slow down Lowell.
Nothing.
At least in recent years.
The top-ranked and top-seeded Red Arrows extended their MHSAA record of consecutive Team Finals titles to eight with a resounding 59-7 victory over third-seeded Goodrich on Tuesday in the Division 2 championship match at Wings Arena. 
"I can't say enough about these kids," said Lowell coach R.J. Boudro, who in his seven seasons as head coach has amassed an impressive 137-21 record. "Even in November, December and January when we weren't wrestling and just waiting, they stuck together. We didn't have any positive (COVID) tests. We worked hard and stuck together, and we're able to win it again. It's not easy. Winning one is not easy, let alone eight in a row."
Lowell wasted no time in setting the tone, earning a pair of first-period pins for a 12-0 lead. Cole Huisman (140) earned a pin in only 29 seconds and William Link (145) followed suit by sticking his opponent to the mat in a mere 35 seconds. 
Leading 35-0 through seven matches, Lowell 285-pounder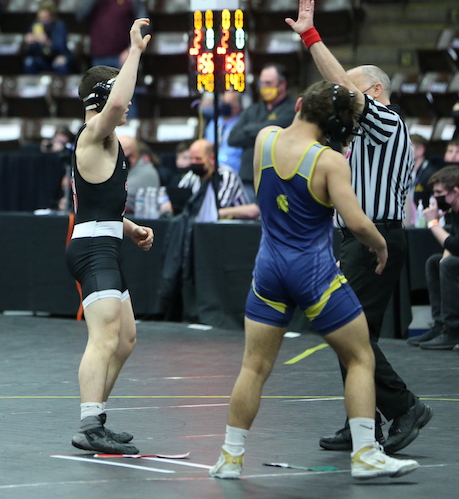 Keegan Nugent earned another pin in just 16 seconds to clinch the title for the Red Arrows (20-3). 
"Effort," beamed Nugent, who will also be shooting for an individual crown this weekend with a 27-0 record. "We have great effort as a team.
"It's all about tradition and doing what you need to do to keep it going," continued Nugent. "Not looking at what other people are doing, just working your butt off to contribute to the tradition."
Overall, Lowell's dominating effort resulted in wins in 12 of the 14 weight classes. The Red Arrows collected six pins, three decisions, two victories by technical fall and one major decision.
The title is not only the eighth straight for the powerful Red Arrows, it gives Lowell its 11th Finals title over the past 20 seasons. Tuesday also marked Lowell's 17th appearance in the Division 2 Final over 23 years. The Red Arrows are 11-6 in title bouts dating back to 1999. 
"It's hard to put it all into words, especially this year," said Boudro. "We have so much support from the parents, administration. So many people help out. It's a special community.
"You know I kept having anxiety every day because I kept hearing about teams withdrawing from the tournament because of positive tests," continued Boudro. "My heart sank every time. But it goes back to us staying healthy and being able to come out here and accomplish this. These kids did everything right, everything that was asked of them." 
Goodrich (18-1) slipped to 2-4 all-time in Finals matches, including losing to Lowell in 2019 (29-23) in the title bout. The Martians came in unbeaten on the season but couldn't muster much against the state's premier Division 2 program.
"They've knocked us out three times now since 2016," said Goodrich coach Ken Sirignano, whose team was also defeated by Lowell in the Semifinals five years ago. "Lowell is a fantastic program; they are really tough. There's not much to say other than they have a great team. They just beat us up today. We just have to get better." 
PHOTOS: (Top) Lowell and Goodrich locked up in Tuesday's Division 2 Final. (Middle) A Red Arrows winner celebrates a match victory against the Martians. (Click for more from HighSchoolSportsScene.com.)