Title IX at 50: Coach Clegg Sets Championship Standard at Grand Blanc
Grand Blanc's ninth-place finish at the Lower Peninsula Division 1 Girls Golf Final on Oct. 16 was its third-straight top-10 placing at the championship tournament, and the Bobcats remain second in MHSAA girls golf history with eight Finals championships.
Judy Clegg played a founding role in setting that standard nearly five decades ago.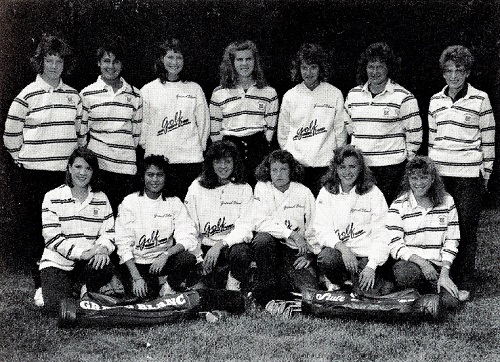 Clegg became Grand Blanc's first girls golf coach in 1975, leading the team to a fifth-place finish that spring in the third MHSAA Girls Golf Finals – when all 83 teams were assigned to one "Open Class" and nine advanced to the championship tournament.
A decade later, her 1985 Bobcats won the first of those eight Finals championships – with girls golf still played in one Open Class – and she led them to a runner-up finish in 1986, another Open Class championship in 1988, and then a Class A runner-up finish in 1990 and Class A title in 1991.
Over 21 seasons, Clegg guided Grand Blanc to a 243-72 match record, eight league and seven Regional championships before retiring in 1995. She was named to the Michigan Interscholastic Golf Coaches Association Hall of Fame in 1995 and the Michigan High School Coaches Association Hall of Fame in 2006.
The Grand Blanc View reported in detail her pioneering work with the program when she was inducted into the MHSCA Hall in 2006. (The statistics above were taken from her bio from the MHSCA Hall of Fame.)
Second Half's weekly Title IX Celebration posts are sponsored by Michigan Army National Guard.
Previous Title IX at 50 Spotlights
Oct. 19: Rockford Girls Set Pace, Hundreds After Have Continued to Chase - Read
Oct. 12: Bedford Volleyball Pioneer Continues Blazing Record-Setting Trail - Read
Oct. 5: Warner Paved Way to Legend Status with Record Rounds - Read
Sept. 28: Taylor Kennedy Gymnasts Earn Fame as 1st Champions - Read
Sept. 21: Portage Northern Star Byington Becomes Play-by-Play Pioneer - Read
Sept. 14: Guerra/Groat Legacy Continues to Serve St. Philip Well - Read
Sept. 7: Best-Ever Conversation Must Include Leland's Glass - Read
Aug. 31: We Will Celebrate Many Who Paved the Way - Read
PHOTOS (Top) Grand Blanc coach Judy Clegg (front row, second from left) serves on the MHSAA's Golf Committee in 1986. (Middle) Clegg (back row, far right) stands with her 1988 Finals championship team. (MHSAA File Photos.)