Performance of the Week: Grand Blanc's Kate Brody
Kate Brody ♦ Grand Blanc
Golf ♦ Junior
The matchup of past Division 1 individual champions this weekend at The Meadows at Grand Valley State may be the most compelling of many storylines heading into this weekend's Lower Peninsula Girls Golf Finals. The preview came during the Oct. 4 Regional at Davison Country Club – and Grand Blanc junior Kate Brody showed again why she's been one of the most acclaimed high school golfers in the state from her first step on the course as a freshman.
Brody – the reigning Division 1 Finals champion – shot a 5-under-par 67 to outpace by four strokes Okemos senior Allison Cui, who won the Division 2 championship in 2020 and Division 1 in 2019. That Regional victory came a week after an impressive run of two tournament wins in two days, when she fired a 77 to win the Saginaw Valley League championship at The Fortress in Frankenmuth and the next day shot a 68 at Warwick Hills to top the leaderboard at the Grand Blanc Invitational.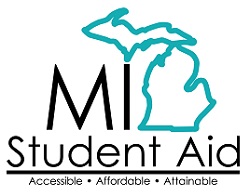 Second Half's "Performance of the Week" features are powered by MI Student Aid, a part of the Office of Postsecondary Financial Planning located within the Michigan Department of Treasury. MI Student Aid encourages students to pursue postsecondary education by providing access to student financial resources and information. MI Student Aid administers the state's 529 college savings programs (MET/MESP), as well as scholarship and grant programs that help make college Accessible, Affordable and Attainable for you. Connect with MI Student Aid at www.michigan.gov/mistudentaid and find more information on Facebook and Twitter @mistudentaid.
2021-22 Honorees
Oct. 7: Lilly Nelson, Negaunee tennis - Report
Sept. 30: Stella Chapman, Ann Arbor Pioneer swimming - Report
Sept. 23: Riley Hough, Hartland cross country - Report
Sept. 16: Josie Bloom, Pontiac Notre Dame Prep volleyball - Report
PHOTOS courtesy of the Brody family.