Performance of the Week: Whitehall's Ira Jenkins
Ira Jenkins ♦ Whitehall
Wrestling ♦ Senior
Jenkins, last season's Division 3 individual champion at 215 pounds, hasn't lost a match since his sophomore season and Saturday helped Whitehall to its fourth-straight West Michigan Conference team title. He is 39-0 this winter wrestling at 285 and finished last season 38-0 – and he'll carry that 77-match winning streak into Saturday's Division 2 Individual District hosted by the Vikings. His team also is undefeated and ranked No. 2 in Division 2, and won Wednesday's Team District at Muskegon Reeths-Puffer.
Jenkins finished fifth at 171 pounds in Division 2 as a sophomore and third at 152 in Division 3 as a freshman, and he's built a career record of 164-11. This season's run is especially impressive as Jenkins had elbow surgery during the offseason that caused him to miss playing football in the fall. He has signed with University of Michigan and is hoping to join the school's Navy ROTC program as he pursues a longtime dream of becoming a fighter pilot.
Follow the MHSAA on TikTok.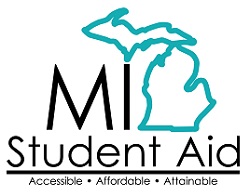 Second Half's "Performance of the Week" features are powered by MI Student Aid, a part of the Office of Postsecondary Financial Planning located within the Michigan Department of Treasury. MI Student Aid encourages students to pursue postsecondary education by providing access to student financial resources and information. MI Student Aid administers the state's 529 college savings programs (MET/MESP), as well as scholarship and grant programs that help make college Accessible, Affordable and Attainable for you. Connect with MI Student Aid at www.michigan.gov/mistudentaid and find more information on Facebook and Twitter @mistudentaid.
2021-22 Honorees
Feb. 3: Emma Stewart, Salem gymnastics - Report
Jan. 28: Tyler Ray, Pinckney swimming - Report
Jan. 21: Elle Craven, Traverse City Central skiing - Report
Jan. 14: Nevaeh Williams, Mount Clemens basketball - Report
Dec. 2: Lucas Dunn, Chelsea football - Report
Nov. 25: Riley Nugent, Plainwell swimming - Report
Nov. 18: Harper Murray, Ann Arbor Skyline volleyball - Report
Nov. 11: Abby VanderKooi, Muskegon Western Michigan Christian cross country - Report
Nov. 4: Arianne Olson, Holland West Ottawa cross country - Report
Oct. 28: Jack Guggemos, Okemos soccer - Report
Oct. 21: Sachiv Kumar, Northville tennis - Report
Oct. 14: Kate Brody, Grand Blanc golf - Report
Oct. 7: Lilly Nelson, Negaunee tennis - Report
Sept. 30: Stella Chapman, Ann Arbor Pioneer swimming - Report
Sept. 23: Riley Hough, Hartland cross country - Report
Sept. 16: Josie Bloom, Pontiac Notre Dame Prep volleyball - Report
PHOTOS by Macy Taranko (action) and Billy Mann (head shot), courtesy of CatchMark SportsNet.